News & Events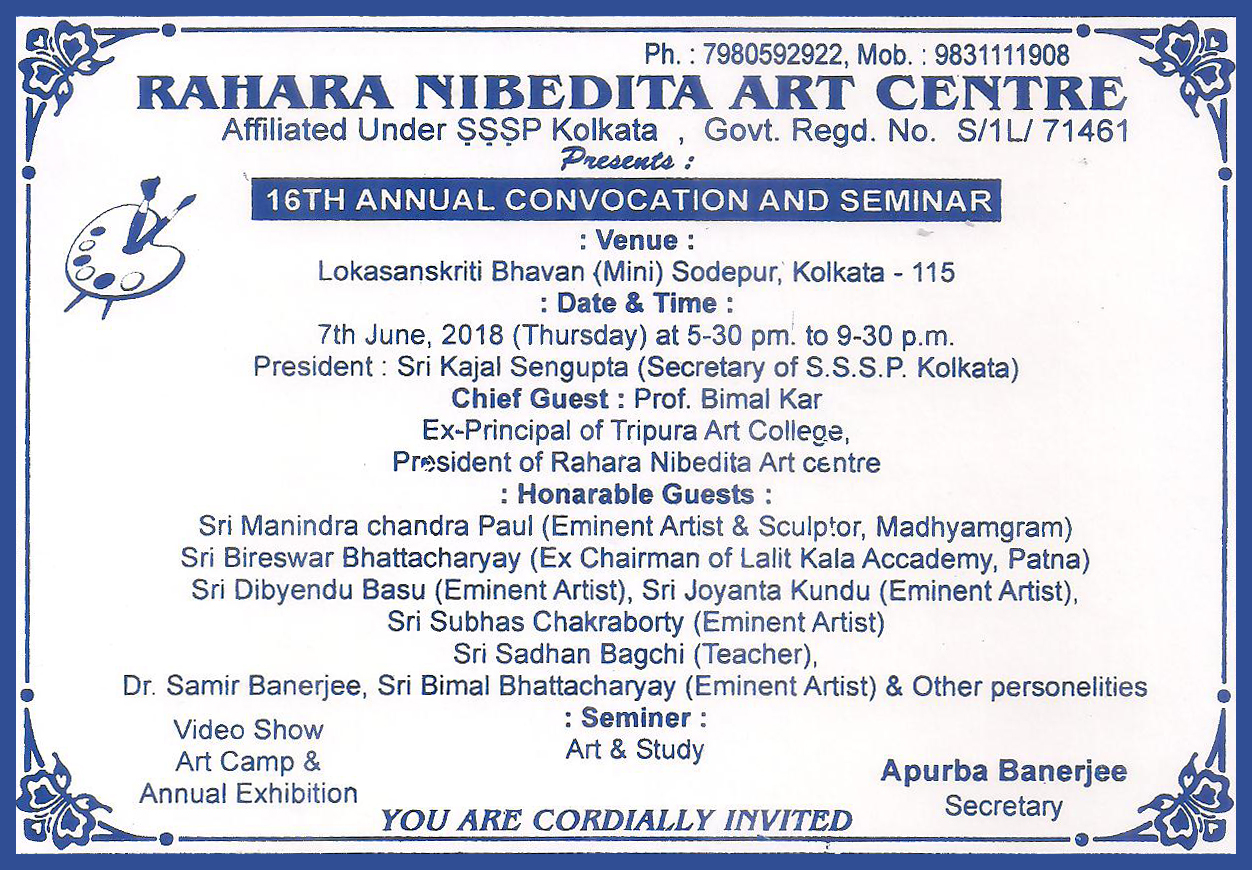 SUMMER CAMP SCHEDULE FOR JUNIORS AND SENIORS
FOR 4TH YEAR TO 7TH YEAR IT IS COMPULSORY FOR EVERY STUDENT PARTICIPATE OTHERWISE NOT POSSIBLE TO ATTAIN IN ANNUAL EXAM (2018-19)
SUMMER CAMP SCHEDULE FOR JUNIORS AND SENIORS
FOR 4TH YEAR TO 7TH YEAR IT IS COMPULSORY FOR EVERY STUDENT PARTICIPATE OTHERWISE NOT POSSIBLE TO ATTAIN IN ANNUAL EXAM (2017-18)
AWARDS --- 2016 - 2017
All India Art Competition - Rajahmundry, Andhra Pradesh
National Best Excellence Award ( Gold Medal + Award ) - Minahaj Uddin ( Group - D )
Gold Medal - Megha Chakraborty ( Group - B ), Baisakhi Karmakar ( Group - D )
Our Adviser, Teacher and Member KABI DUTTA expired on 24th October 2016. It is a big loss for Rahara Nibediita Art Centre. May his soul rest in peace.
All India Art Competition - Vijayawada, Andhra Pradesh
Gold Medal - Nilabha Ganguly,Barsha Jana,Mahima Khatun,Tania Akter
Silver Medal - Nabamita Chakraborty,Barnak Majhi,Soham Kanjilal
Best Art School Award - Rahara Nibedita Art Centre,West Bengal
All India Art Competition - Farakka,Murshidabad,West Bengal
GOLD MEDAL – Arin Saha (Group – B)
SILVER MEDAL– Rajrati chatterjee(Group – D), Sanowar Ali(Group-E)
BRONZE MEDAL – Hayat Waris (Group – c), Piyali Dutta (Group – G)
MERIT AWARD – Md. Rehan Ansari (Group – c),Udippi Paul (Group-c), Afsahana Khatoon(Group–c),
Mohima Khatun(Group – E) Mahnaaz Farman(Group-E),Baisakhi Karmakar(Group-E)
Dristi Banik(Group- G)
PASUPATI AWARD – Rahara Nibedita Art Centre
MERIT CERTIFICATE – 51
All International Art Competition - Hong Kong
8 Students participated ALL INTEERNATIONALART COMPETITION – HONG KONG
and everyone achieved award for first time.
3rd prize – MEGHNA DAS ( Group – B )
ERIC ROY ( Group – c)
NABAMITA CHAKRABORTY ( Group – D )
Merit Certificate – Barsha Jana, Poulomi Baisya,Nilabha Ganguly,Udippi Paul, Hritambhara Sanyal.
All International Art Competition - Ireland
Merit Award - Megha Chakraborty, Tuhina Rahaman,Anusha Jahan,Nilabha Ganguly, Hritambhara Sanyal,
Puspita Pramanik,Meghna Das,Eric Roy,Arin Saha
Selected Students for Annual Art Examination – 2016-17
PP – 1 --- Aman Ansari,Soham Kanjilal,Ruksana Khatoon,Subhanita Das,Maymuna Khatun,Md.Omar Faruque Siddique,Sanju Ali Mondal,Sabnam Mondal,Sahina Khatun,Tanisha Mondal,Ritayan Mukherjee,MeghaParna Das,Sarjina Khatoon,Supriti Sarkar,Sayan Halder,Ishita Das,Niladree Saha,Kainat Bano,Serina Khatun,Afrin Parveen,Md. Jamil,Baisakhi Mondal,Baisakhi Mondal.
PP – 2 -- Md.Ayan,Sk.Jishan,Meghna Das,Tabasumm Parveen,Md. Akash,Sabana Khatun,Afshana Khatoon,Supriya Sarkar,Deep Saha,Soumyadep Das,Irfan Sk,Sk. Mahetav Ali,Jashmin Mondal,Jayita Dutta,Irin Gazi.
PP – 3 -- Mohima Khatun,Mridul Chakraborty,Hayat Waris,Hritambhara Sanyal,Swaralipi Sur Roy,Kingshuk Chakraborty,Srinjoyee Goswami,Saina Khatoon,Arghya Nandi,Abrar Gazi..
PRIMARY -- Debarshee Bhattacharjee,Debanjali Bhattacharjee,Md. Sarfaraj,Eric Roy,Sayani Das,Nilabha Ganguly,Puspita Pramanik,Tuhina Rahaman,Md. Sheezan Qamar,Afsha Khatoon,Md,Rehan Ansari,Ariba Hussain Ansari,Mahnaaz Farman,Anubha Das, Madhushree Ghosh.
1st Year -- Sana Tehsin,Sk. Rafikul Islam,Ritwicka Karmakar,Souradipta Mukherjee,Rajrati Chatterjee,Laxmi Shaw,Salma Khatun,Jayasree Dutta,Simran Das,Aparajita Roy
2nd Year -- Debjani Das, Salema Khatun,Liza Parveen,Soujanya Das,jayatree Nath, Sanowar Ali.
3rd year -- Moumita Mondal,Afrin Warsi,Nilofar Qiam, Priyanka Saha,Barsha Jana,Poulami Baisya,Sk. Md. Kaif,Madhuparna Ghosh,Nabamita Chakraborty.
4th Year -- Bipasha Paul, Tiyasa Karmakar,Md. Rakib
7th Year -- Piyali Dutta,Dristi Banik,Tania Akter
Art Exam - Theory - 07/01/17 (For 5th year to 7th year) at - 2 pm to 5 pm and 08/01/17 (For 2nd Year to 4th year) at 10 am to 1 pm, (For 5th year to 7th year) at - 2 pm to 5 pm. Venue - Rahara Nibedita Art Centre.
Practical Exam - 26/03/2017 Examiner - Mithun Mondal Place - Lokenath,Rahara Bazar (Near 78/1 Bus Stand) Rahara, Railway Station - Khardah Time - 1-30 pm
Students must bring all art materials (Except paper that will submit in the exam hall) and must reach1-15pm in the exam hall.